River
junction's
Siberian Huskies

Wir züchten aus Liebe zur Rasse Siberian Husky nach den Regeln des



DCNH/VDH/FCI
Wurfplanung für 2020
Mutter ist unsere Katniss
Snowmist's Catching Fire
Kanadischer Champion, German Winner 2018

Vater ist unser James
Hightower's Xclusive Design
DCNH, VDH Jugendchampion, Luxembourger Jugendchampion, VDH Champion



New litter planned in 2020
Mother will be our Katniss
Snowmist's Catching Fire
Canadian Champion, German Winner 2018

Father will be our James
Hightower's Xclusive Design
German Youth Champion DCNH and VDH, Luxembourg Youth Champion, German Champion VDH
Unser letzter Wurf: 2 Jungs, 3 Mädchen
Alle Welpen haben ihre Familie gefunden.
The puppies of our last litter: 2 boys, 3 girls
All puppies found their forever home.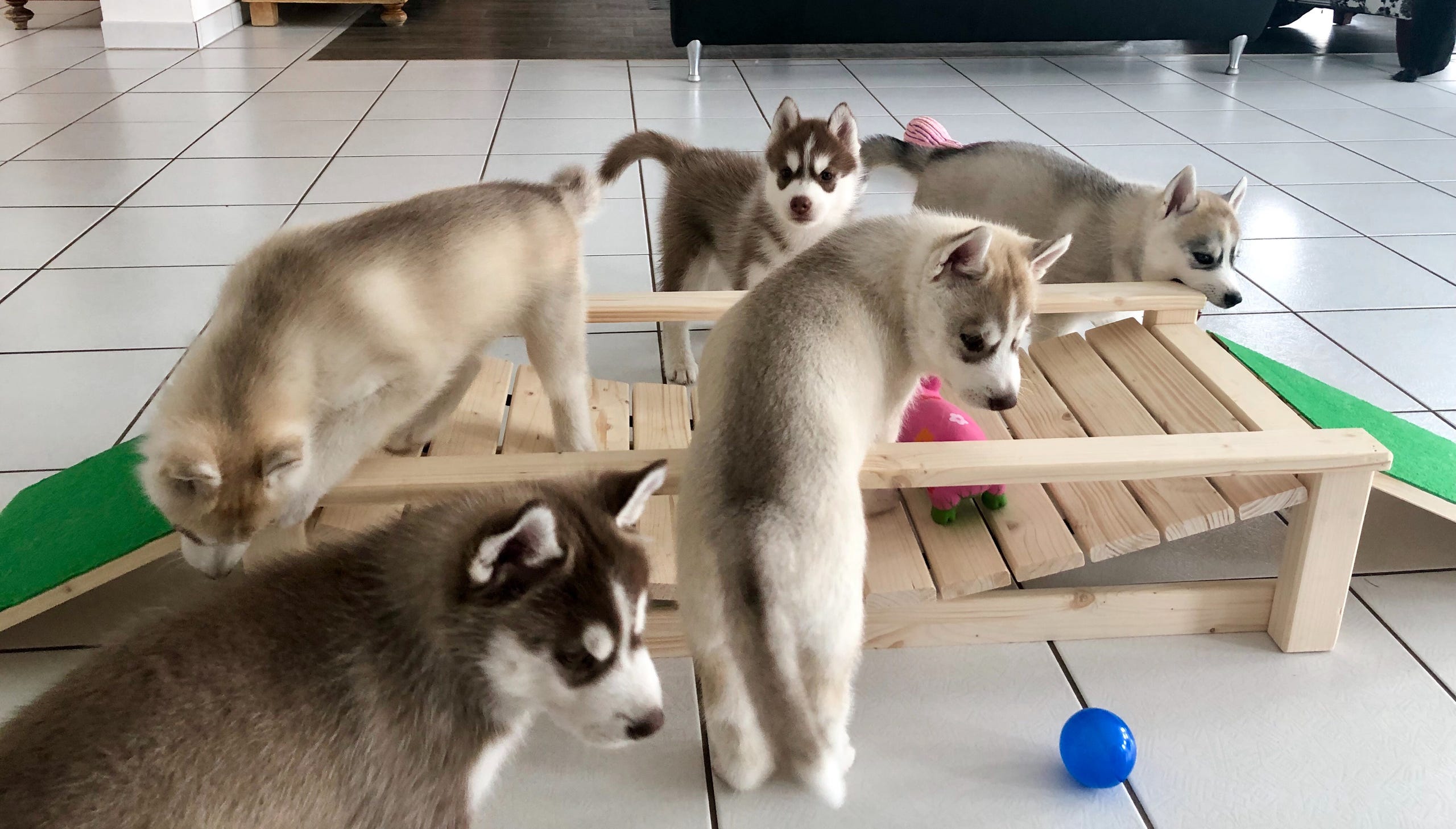 Hier wohnen Huskies

Die Huskies sind für uns Familienmitglieder. Sie leben bei uns im Haus und im großen Garten.

Where Huskies live
The Huskies are members of our family. They live inside our house and in our large garden.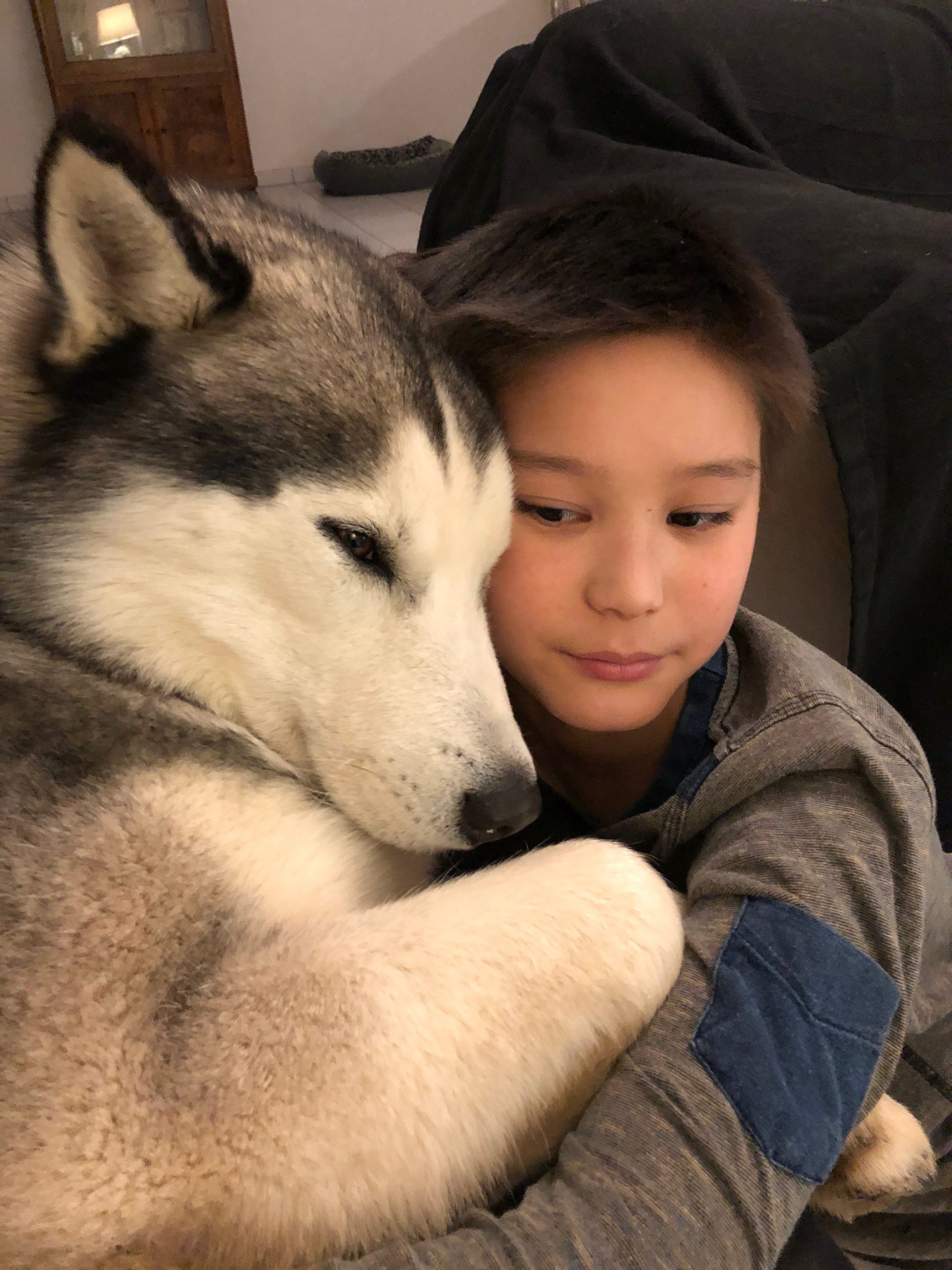 Aus kleinen Huskies werden große Huskies
Das sind James, Vincent und Katniss als Welpen und als erwachsene Hunde.
Huskyfreizeit
Siberian Huskies sind tolle Freizeitpartner. Wir machen mit Ihnen große Wanderungen, wir nehmen sie mit in Urlaub und ins Restaurant.
Mit den Kleinen besuchen wir regelmäßig Welpenkurse. Unsere Huskies können dort mit anderen Rassen spielen und lernen die ersten Grundkenntnisse in Sachen Erziehung. Wir raten auch den neuen Familien unserer Welpen, zu Hause eine Welpenschule zu besuchen.
Individuell eignen sich die Siberians zum Agility, Begleithundetraining, zum Zughundesport oder Canicross und zu vielem mehr.


Vincent, James und Katniss
Vincents größter Spaß ist es, mit uns Fahrrad zu fahren. Dabei läuft er lange Strecken im leichten Trab und legt gerne schnelle Sprints ein. Einmal pro Woche gehe ich mit Vincent zum Obedience. Hier lernen und üben wir das Gehen an durchhängender Leine, Sitz, Hinlegen und Bleiben. Die Übungen fördern die persönliche Beziehung zwischen Mensch und Tier. Uns beiden macht es sehr viel Spaß. Man darf dabei aber nicht den Ehrgeiz haben, dass der Husky so schnell und bedingungslos wie einige Gebrauchshunderassen reagiert. Vincent führt die Übungen aus, weil er selbst mitdenkt und weil er seinen Menschen liebt. Das kann schon mal etwas länger dauern.
Mit James nehme ich seit einiger Zeit am Agility Training teil. Er ist ein Naturtalent. Mit Elan und Spaß springt er über die Hürden, geht durch den Tunnel und über die Wand.
Katniss mag am liebsten ihren Dummy. Sie findet ihn in jeder zusammengeknüllten Plane, in Rohren oder auf dem Steg.


Husky Leisure

Siberian Huskies are great leisure partners. We like to hike with them, take them with us on vacation and to the restaurant. We regularly attend puppy courses with the little ones. Our huskies can play there with dogs of other breeds and learn the basics of education. We also advise the new families of our puppies to attend a puppy school at home.
Individually, the Siberian Huskies are suitable for agility, companion dog training, sled dog sport or canicross and much more.

Vincent, James and Katniss

Vincent's greatest pleasure is to run next to the bike with us. He hikes long stretches in a light trot and likes to sprint quickly. Once a week I take part in obedience class with Vincent. Here we learn and practise walking on leash, sitting, lying down and staying. The exercises promote the personal relationship between human and animal. We both have a lot of fun. However, one should not have the ambition that the Husky reacts as quickly and unconditionally as some working dog breeds. Vincent does the exercises because he thinks for himself and loves his owner. Usually this can take some time.
I have been taking part in agility training with James for some time now. He is a natural talent. With verve and fun he jumps over the hurdles, goes through the tunnel and over the wall.
Katniss prefers her dummy. She finds it in every crumpled tarpaulin, in pipes or on the dock.
Agility
James hat unbeschreiblich Spaß an unseren gemeinsamen Agility Stunden. Und da sagt man, Huskies kann man nicht ableinen und sie hören nicht. James dagegen kommt auf den Platz und möchte mit mir zusammen, den Parcours meistern.

James is indescribably enjoying our agility hours together. A lot of people claim that Huskies are not suitable for agility training and do not listen at all, but that is not my experience: Especially James loves to master the course with me.